Want to step back, disconnect from the tumult and stress of everyday life? Want to reconnect with nature, to take a breath of fresh air and tranquility? To finally take the time to take the time?
Alone, with family or friends, for a day or a week, nothing better than a hike … with a donkey!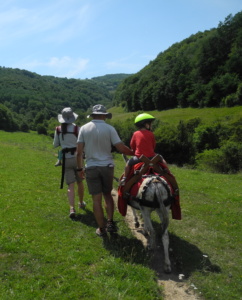 We propose hiking in an exceptionally preserved environment: it becomes rare, nowadays, to walk 5 whole days without crossing a single asphalted road … Around Ermitaj, it is still possible!
We suggest you to walk the green hills and the flowery plains of Transylvania, with our donkeys, Sanda, Camelia and Ciuc, who will carry the necessary equipment and supplies, and they will give the cadence …. quietly!
According to your abilities and your desires, we offer you a customised formula:
The duration can range from half a day to 7 days.
Accommodation and meals are either at homestay, in small villages that we will cross, either in bivouac (camping). It is also possible to return each evening to stay at Ermitaj.
The itinerary will be adapted to your physical abilities and the presence or not of children.
Depending on the size of the group (from 2 to 15 people), you will hike with one or more of our donkeys.

The team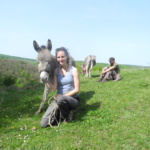 Coline and Rémy discovered donkeys when they arrived in Ermitaj for the first time, in 2015.
Soon, they became in love with them, and decided to learn as much as possible in order to offer them the best conditions of life, as well as education and appropriate care.
They followed, in Belgium, trainings which allowed them to know better the work with the donkeys:
– a training, followed with practice, about asine traction (agricultural work on animal traction with donkeys),
– two formations in asinotherapy, therapy with donkeys! We would like to offer you different activities around donkeys.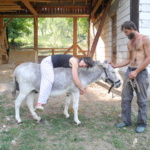 Today, their love for donkeys, their knowledge of the region and the Romanian language make them organizers and guides all indicated.
In addition to hiking, there will be times to get to know the donkeys: to interact with them and take care of them (feed them, brush them, clean their hooves, lead them). Their sweetness and their emotional intelligence will surprise you!
Interested?
Contact us to communicate your desires, and we will make you a proposal adapted to your situation!