When to come
Ermitaj is not only a 'professional' project, it is also a place of life for its residents, who have deliberately chosen to live at their own rhythm. Even if, at certain times of the year, our agenda is very busy, we are really willing to offer to ourself some days "off" and some time for our personal projects.
We hope that you will understand that we ask you to not come unexpectedly.
If you are interested in our project and would like to come to the Ermitaj, there are several possibilities:
In addition, we will regularly organize "Open doors" days or other events, during which we will be open to the public.
Check our calendar to be informed of our upcoming events.
If you wish to come at another moment, please contact us by e-mail, preferably one week in advance, or try to contact us by phone if necessary.
From experience, we know that it is not easy to find Ermitaj when the night has come. In addition, we are not always available to welcome you in the evening. For your comfort and ours, we ask you, in general, to arrive at Ermitaj during the day.
How to come
Our adress:
199, Malin, RO-427200 (Jud. Bistrita-Nasaud).
47°06'11.64811″N, 24°08'26.40811″E
Most international trains go to Bucharest or Budapest. It is possible to find connections leading you directly to Beclean pe-Someş.
More info on the official website of the Romanian railway network: http://www.cfr.ro/ (discounts if order in advance) and on the national railway sites of your starting point.
For international journeys passing through Austria, we advise you to take a tour on the Austrian railways website, which offers tickets for departures and arrivals from all over Europe!
Note that there is now a direct line (night train) from Brussels to Vienna, and another direct line from Vienna to Cluj-Napoca!
There are bus companies that connect the countries of Western Europe to Romania. See for example the Romanian company Atlassib.
By car, hitchhiking or carpooling
You have time but little money? We tested Malin-Brussels by hitchhiking, and it's totally possible! In 2 and a half days (50 hours), with 2 real nights of sleep in a tent. The longest part of the trip is in Romania (no highway, we cross many cities), if you want to save time, it is possible to do this portion by train (via Budapest) or to take taxis to cross towns.
Two international airports are located at 100 kilometers from our village. In Cluj-Napoca and Târgu Mureş.
From Cluj to Malin
To get from Cluj airport to Malin, the fastest option is the car:
By taxi, the cost is about 60 € (250/300 lei), that you will have to negotiate before departure (taxis do not normally operate in several departments, so they disconnect their counter for this kind of race).
By hitchhiking (the Romanians take hitchhikers quite easily. This looks more like carpooling because they usually receive a financial participation from the passenger). You just have to get out of the airport, to cross the street, and to raise your thumb! A sign "Beclean" – pronounced "Békléan" – can make things easier for you.
If you are in the center of Cluj or prefer public transport:
You have the choice to take the bus or train to Beclean.
By bus: several companies provide the connection to Beclean.
By train: specify well Beclean pe-Someş (pronounced "békléan pé somech") since there is another city called Beclean. (From the airport, get to the train station ("autogara") from Cluj-Napoca by taxi (+/- 5 euros-), by tram or bus).
From Beclean to Malin

In Beclean (10 km from Malin), the easiest way to reach Malin is to take a taxi (25 lei = 5 €) which you will find not far from the train station. If you would like to come by hitchhiking from Beclean, we advise you to go to the beginning of the road to Malin (sign CHIOCHIS, the road is on the right, at the entrance of the city, when you come from Cluj), according to the days / hours of the day, it works more or less well (the road to Malin is a "dead end").

Arrival in Malin
Entering the village, take the first small bridge on the left (you see the sign "ERMITAJ", the path to follow is shown in red dashed lines on the diagram). The asphalt road stops after a few dozen meters. At the first intersection, you take left to go down to the football field.
If you are driving, it is better to leave your car there and continue by foot. Indeed, it is better to see by yourself the state of the road before trying to go by car (not impossible in dry weather but, in any case, hard for suspensions and for people in the car!)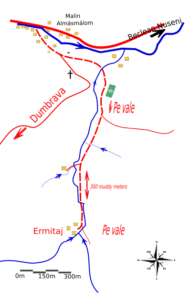 Once at the football field, you will see the stream of our little valley on your right, you will go up to our house.

After about a kilometer, the stones disappear. You will see an intersection, do not turn right towards the neighbor's barn, but continue straight on the dirt road (or mud, depending on the time, so be ready!). After a few hundred meters, you arrive at Ermitaj.
The farm is on your right, at the foot of the forest.
The small portal is painted in blue.