The 2020 season is already on the horizon … and a year has passed since the last newsletter! We apologize for this long silence, which doesn't mean that we had nothing to say, but quite simply that we preferred to spend time on the land rather than behind our screens.
But we will catch up for this, we promise: we have made for you a little overview of the past year, and a very busy program for the coming year!
What happened in 2019?

We will remember the two flagship events of the year, very successful, and which left us wonderful memories:
We welcomed many volunteers, friends and visitors throughout the year. A big thanks to all of them for the beautiful moments of joy and sharing, and especially for their motivation and their precious help at the Ermitaj!
We would like to thank them one by one in this newsletter as we are so grateful to them, but it would become endless! We would like to thank in particular Yann and Salomé, who stayed with us for more than 3 months, and who, in addition to holding their internship and their precious help on the farm, took a very active part in the organization of events!
To finish the overview, here are some photos of our activities and achievements in 2019:
What will happen in 2020?
Spring is getting closer, and we have plenty of projects!
Many courses and workshops are scheduled this year! Here is an overview:
From April 25 to 26: spring claca – let's get ready with the garden!
From May 9 to 10: weekend on wild edible plants (in Romanian language)
From May 23 to 24: weekend of introduction to permaculture (in Romanian language)
From May 24 to 27: week of volunteering around permaculture
From May 28 to 31: design method course in permaculture (in Romanian language)
Summer 2020:
From July 18 to 19: summer claca – haymaking
From July 25 to 26 (date to be confirmed) : workshop on herbal tea plants and their medicinal properties (in Romanian language + possible intervention in French / English)
From August 24 to September 5: Certificated Permaculture Design Course with Mark Shiperlee and Tudor Petrutiu (in English)
Fall 2020:
Workshop weekend about natural cosmetics and preparations based on medicinal plants (in Romanian language + English translation possible) – to be confirmed
Course about Food forest (in Romanian language) – to be confirmed
From October 3 to 4: fall claca – fruit harvesting and tree planting
For more information on the events at Ermitaj, consult our agenda regularly, which will be updated as we go!
What else?
In the garden: we have planned to focus on the development and extension of the new vegetable garden located downstream of the land, and the establishment of a small garden dedicated to aromatic and medicinal herbs.
Food preservation: two different models of solar dryers will be built in the spring for fruits, and a space dedicated to drying plants will be created. Emphasis will be placed in particular, through experiments and workshops, on wild and medicinal plants: picking, cultivation, drying and preparation of remedies (balms, oils, tinctures, herbal teas)
Construction sites: improve and create fences and paths, natural plasters on the walls of the barn, maintenance and minor work in the big house (replacement of a roof), transforming an old van into a tiny house …
… And don't forget that our donkeys are waiting for you to go hiking! Contact us if you are tempted, and we will create a tailor-made stay for you 🙂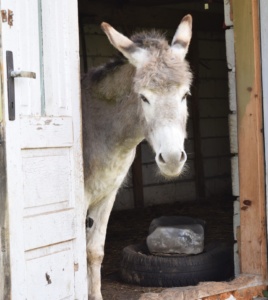 See you soon?